Spend $100, and Get the PSG and ASM Mug for FREE!
Sign up here for the "Ray Keating Books and More" newsletter, get a chance to win a $20 Amazon.com gift card

and

receive the first two chapters of

Warrior Monk: A Pastor Stephen Grant Novel

 for free right to your email inbox!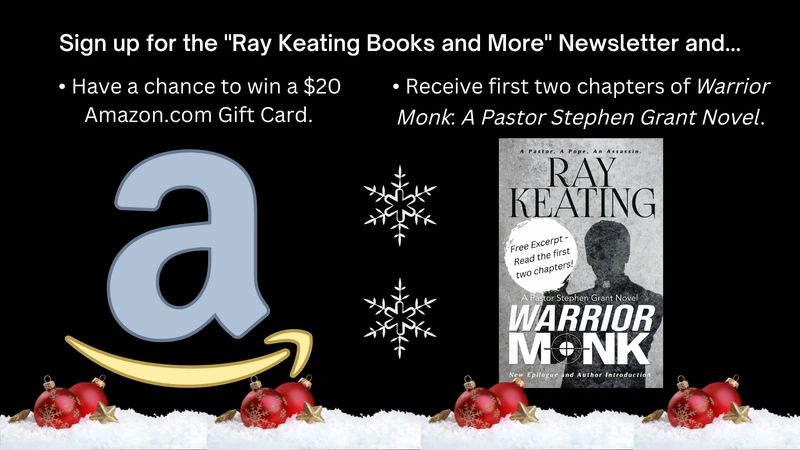 We'll use your information for sweepstakes entry, and to send you the latest news and updates about Ray Keating's books, including the Pastor Stephen Grant thrillers and mysteries. Sign up before the close of December 1, 2022.
Stephen Grant, pastor at St. Mary's Lutheran Church on Long Island, former Navy SEAL and onetime CIA operative, came on the thriller/mystery scene in Warrior Monk: A Pastor Stephen Grant Novel. During 16 books in the series so far, readers come to see that Grant didn't fully leave his old life behind. With a wide-ranging group of recurring characters – from his days with the Agency to his parish work – the reader is treated to action, suspense, humor, various relationships, faith, love, adventure, mystery, and opportunities for reflection and discussion.
Kirkus Reviews has called Ray Keating's Pastor Stephen Grant "an engaging and multifaceted character" and "a consistently entertaining hero." Lutheran Book Review says, "I miss Tom Clancy. Keating fills that void for me." The retired host of KFUO radio's BookTalk declares, "Ray Keating is a great novelist." David Keene of The Washington Times calls these novels "great reads."  And another reviewer observes, "How I'd love to see Pastor Grant on Netflix!" 
In an article titled "If James Bond Became a Pastor" covering Ray Keating's Pastor Stephen Grant thrillers/mysteries series, author and columnist Gene Veith noted, "Mr. Keating knows how to tell an exciting story. And these books, like the James Bond novels, are ridiculously entertaining."
NO PURCHASE NECESSARY. Enter between 12:01 AM (ET) on 11/11/2022 and 11:59 PM (ET) on 12/01/2022. Open to residents of the 50 United States and the District of Columbia who are 18+. Winner will be selected at random on or about 12/02/2022. Odds of winning depend on number of eligible entries received.