Baseball Triple Crown - Murderer's Row, Root of All Evil? and Cathedral - Signed by the Author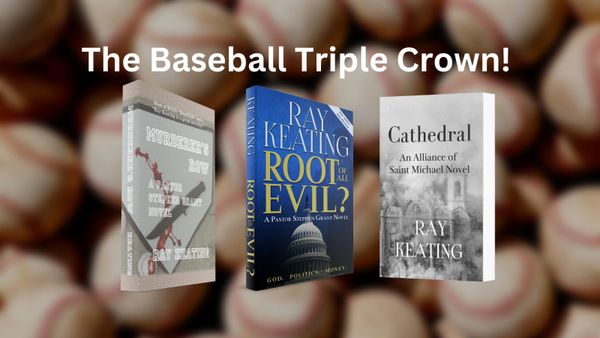 Description
Enjoy Three Exciting Reads That Feature Baseball – Signed by Ray Keating
The Baseball Triple Crown is Murderer's Row: A Pastor Stephen Grant Novel, Root of All Evil? A Pastor Stephen Grant Novel, and Cathedral: An Alliance of Saint Michael Novel.
Murderer's Row: A Pastor Stephen Grant Novel
How do rescuing a Christian family from the clutches of Islamic terrorists, minor league baseball in New York, a string of grisly murders, sordid politics, and a pastor, who once was a Navy SEAL and CIA operative, tie together? Find out in Murderer's Row by Ray Keating. 
From the book…
After the national anthem, the Surf Kings took the field and the conversation among the four continued. 
Mike said to Stephen, "Wait a minute, you're a Reds' fan, and she loves the Cardinals. Even as a coasts guy, I know that rivalry. How does that work?" 
Stephen answered, "I forgive her this one major sin." 
Jennifer jumped in, "Actually, Mike, it bothers him more than me. After all, the Cards have won two World Series, and been in a couple of others over the last decade or so. His poor Reds haven't seen Series action since – when was it, Stephen? – that's right, 1990. They're not really much of a threat." 
Stephen said, "Ouch, that hurt." 
Jennifer leaned over and kissed Stephen's cheek. "That's okay, it'll happen, again, some day." 
"Not pity. That hurts even more," Stephen added. 
Mike asked, "If you're from Las Vegas, Jennifer, why the Cardinals?" 
"My mom was from St. Louis, and I spent many summers there growing up. She passed her love of baseball and the Cardinals on to me." 
Melissa said, "What about you and the Reds, Stephen?" 
"It was my dad. I grew up in Glendale, Ohio, just north of Cincinnati. He was a huge Reds' fan. Becoming a Reds' fan was just a natural family, hometown thing." 
Jennifer asked, "And what about you two, that is, beyond the Surf Kings, of course?" 
Mike said, "I'm a Padres' fan. She's a freaking insane Padres' fan." 
Melissa laughed. "Yes, I am." 
Stephen said, "Since my seminary days, I've had a small affinity for the Swingin' Friars." 
Mike replied, "Friars, Padres, and a pastor – nice."
Stephen said, "Thank you."
"Mike, please don't encourage him," said Jennifer.
Root of All Evil? A Pastor Stephen Grant Novel
Do God, politics and money mix? In Root of All Evil? A Pastor Stephen Grant Novel by Ray Keating, the combination can turn out quite deadly. Keating introduced readers to Stephen Grant, a former CIA operative and current parish pastor, in the fun and highly praised Warrior Monk. Grant returns in Root of All Evil? – a breathtaking thriller involving drug traffickers, politicians, the CIA and FBI, a shadowy foreign regime, the Church, and money. Charity, envy and greed are on display, with the action running high.  
From the book…
Jennifer and Stephen's flight from Long Island's MacArthur Airport was just over an hour long, touching down on the BWI runway at 4:15 on Sunday afternoon. 
By the time they picked up two small pieces of luggage, grabbed a taxi, and checked in at their hotel in the Navy Yard section of Washington, D.C., it was nearly 6:30. 
After arriving in the room, Stephen slipped off his sneakers and fell onto the king-size bed. "What are we doing for dinner? Looks like the restaurant downstairs offers a pretty standard menu." 
Jennifer unzipped her wardrobe bag. "No, I don't think so." She pulled out her two business suits and blouses to hang up in the closet. 
"You have a better idea?" 
"As a matter of fact, I do." She opened her computer bag, and pulled out two sheets of paper. "Tickets to the Nationals game tonight." 
"You're a wonderful wife. Who are they playing?" 
"Well, you might not like this..." She pulled out a Cardinals hat from the same bag and placed it atop her short auburn hair. 
Stephen groaned. "If I must." 
"Yes, I'm sure it will be sheer torture to get you to go to a ballgame." 
"Can I root for the Nationals?" 
Cathedral: An Alliance of Saint Michael Novel
The Alliance of Saint Michael brings together men and women with varied backgrounds and talents to work covertly against the two most significant threats to Christianity and civilization at the dawn of the 1930s - communism and fascism. In Moscow, the Cathedral of Christ the Saviour is going to be obliterated to make way for the Palace of the Soviets. The Alliance of St. Michael readies itself for its first mission – find and salvage a rare item of great significance from the cathedral before the building is lost.
From the book…
Blackwell commented, "A pastor and an athlete, I see. You have had success in baseball?" 
"High school and college," replied Pastor Eric Meyer.
"I understand that you played with Father O'Riley while at Stanford?" 
"Yes. He was the starting catcher, and I pitched and played shortstop." 
"I had heard that you were quite good, and now I see these awards." 
"I have always enjoyed the game – both playing and as a fan." 
Blackwell pointed to the baseball hat. "I assume that is not a Stanford cap?" 
Meyer said, "No, that's a San Francisco Seals hat." 
"Seals?"
"They play in the Pacific Coast League. Californians like to think of it as the West Coast answer, or alternative, to the American and National Leagues." 
"I see. You are a fan," he hesitated, "or something more?" 
Mr. Blackwell knows much more than he is letting on. 
"I am a fan, but after Stanford, I had an offer to play with the Seals." 
"That is interesting. What happened?" 
"I hurt my shoulder. It doesn't bother me doing most everything else, but for throwing a baseball. My velocity disappeared, and so did any possibility, however slight it might have been, to play pro ball." 
Blackwell nodded. "I see. If I may say, the rest of us are better off with Eric Meyer as a pastor than a pitcher." 
"I appreciate that, and hope it's the case." 
Ray Keating is a novelist, an economist, a nonfiction author, a podcaster, a columnist, and an entrepreneur. He is the author of the Pastor Stephen Grant novels, the Alliance of Saint Michael series, and assorted nonfiction books. For more information, go here.
(Free shipping only within the continental U.S.)