Save on the Book of the Month
Book of the Month October 2019: Buy 3 - WARRIOR MONK, ROOT OF ALL EVIL?, and AN ADVENT FOR RELIGIOUS LIBERTY - and Get MURDERER'S ROW Free - Signed Set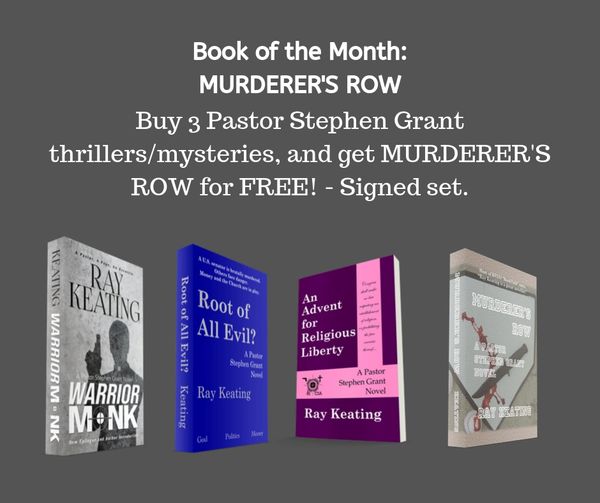 Description
Books of the Month for October 2019 – MURDERER'S ROW – Signed by Ray Keating
Buy 3 Pastor Stephen Grant Novels - WARRIOR MONK, ROOT OF ALL EVIL?, and AN ADVENT FOR RELIGIOUS LIBERTY - and Get MURDERER'S ROW for FREE!
The host of KFUO radio's "BookTalk" says, "Ray Keating is a great novelist." 
On MURDERER'S ROW...
How do rescuing a Christian family from the clutches of Islamic terrorists, minor league baseball in New York, a string of grisly murders, sordid politics, and a pastor, who once was a Navy SEAL and CIA operative, tie together? Find out in MURDERER'S ROW: A PASTOR STEPHEN GRANT NOVEL by Ray Keating.
In MURDERER'S ROW, Ray Keating serves up fascinating characters, gripping adventure, and a tangled murder mystery, along with faith, politics, humor, and, yes, baseball. Keating said, "In this Pastor Stephen Grant thriller, I enjoyed bringing baseball into the exciting world of Pastor Stephen Grant, and his family, friends, and former CIA colleagues. I hope readers have as much fun reading MURDERER'S ROW as I had writing it."
Kirkus Reviews says, "Action fans will find plenty to love here, from gunfights and murder sprees to moral dilemmas."
(PLEASE NOTE: Free shipping only applies in the continental U.S.)