Cathedral: An Alliance of Saint Michael Novel - Signed by the Author
Description
Cathedral: An Alliance of Saint Michael Novel – Signed by the Author

Cathedral: An Alliance of Saint Michael Novel is Ray Keating's sixteenth work of fiction, and the first in the Alliance of Saint Michael series. 
 
The Alliance of Saint Michael brings together men and women with varied backgrounds and talents to work covertly against the two most significant threats to Christianity and civilization at the dawn of the 1930s - communism and fascism.
 
In Moscow, the Cathedral of Christ the Saviour is going to be obliterated to make way for the Palace of the Soviets. The Alliance of St. Michael readies itself for its first mission – find and salvage a rare item of great significance from the cathedral before the building is lost.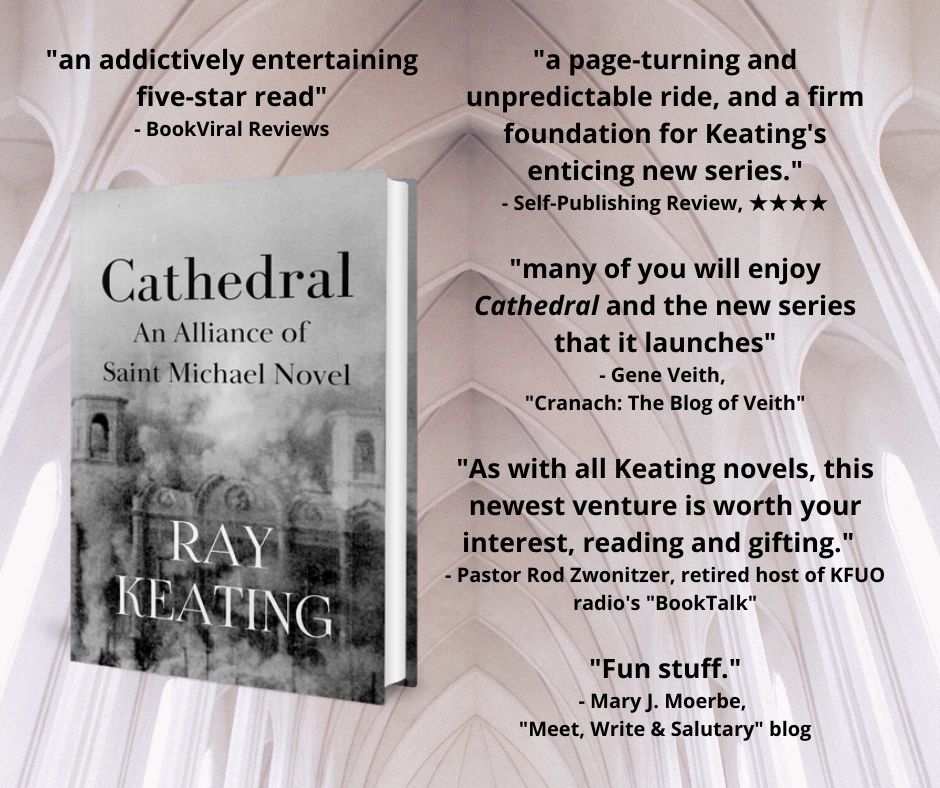 Reviews of Cathedral...
"A stellar depiction of time period and tension. With so many swirling motives and three-dimensional characters in the mix, there is inherent tension for readers, as they eagerly anticipate one of Keating's classic twists. The depth of historical detail is notable; a good deal of research went into the crafting of this novel, which gives it an authentic and immersive feel. The complex puzzle makes for a page-turning and unpredictable ride, and a firm foundation for Keating's enticing new series."  - Self-Publishing Review, ★★★★
"… fans of his Stephen Grant books will be happy to learn that [Keating] has started another series of thrillers, The Alliance of Saint Michael novels.  These novels, set in the 1930s, are about a shadowy organization that seeks to defend Christianity from the attacks then underway from both Communism and Fascism.  The main characters are a Lutheran pastor, a Catholic priest, and an Anglican laywoman, plus a supporting cast of German Lutherans, Russian orthodox, and other operatives taking on Stalin's apparatchiks and Hitler's brown shirts… With lots of depression-era local color, from the automat in New York City to the retired Calvin Coolidge, the story in this first book of the series centers on the efforts to save the lost manuscript of a translation of the Bible into Russian … many of you will enjoy Cathedral and the new series that it launches… Ray Keating is working with an explicitly Christian moral and theological framework, demonstrating the freedom that Lutheran novelists have in their vocation."   -  Gene Veith, "Cranach: The Blog of Veith," and author of many books including The Spirituality of the Cross, Imagination Redeemed: Glorifying God with a Neglected Part of Your Mind, Reading Between the Lines: A Christian Guide to Literature, and God at Work: Your Christian Vocation in All of Life
"A Catholic, a Lutheran, and an Anglican walk into an auditorium, all surprisingly ready for action and adventure. Ray Keating's newest series, 'An Alliance of Saint Michael,' is an action thriller starring various Christians, of various denominations, coming together to fight ideological evil. Did they originally hope education would be enough? Sure. Then they upped their game by entering into a race against terrorism and destruction. Similar to his Stephen Grant series, Ray Keating creates a group of ecumenical and eclectic Christians, who work hard and smart to fight evil, this time during the rise of Communism during the 1920s and 1930s... I enjoyed the details from the 1920s and 1930s. Rather than focusing on women's fashion, there were insights into technological developments of the time, race cars, and a peak into Hollywood. Fun stuff. I thought the worldbuilding was good... Sometimes the bad guys seemed to be on a roll. Sometimes you even wondered about the good guys. Still, a good summer read, quite in line with Keating's other works. Once again, priests and pastors play prominent roles. This book sets up a series to come without a cliff hanger, which I appreciate, and I'll look forward to more books to come."  - Mary J. Moerbe, "Meet, Write & Salutary" blog
"From actual historical facts to fiction and action-packed suspense, there is everything that will keep one turning one page after another… I rate this book five out of five stars. I recommend the book to fans of crime and action-packed books. The book is also suitable for ardent readers of historical fiction, as there is much to discover about the early twentieth century."  - OnlineBookClub.org 


"This new Alliance of St. Michael series continues Keating's already demonstrated mastery and skill in writing, character development, and accelerating the interest level of the reader throughout. What has impressed me from the first of the PSG series was the theological acumen displayed. In that regard, Keating continues many of the themes maintained in the PSG series: well researched, expert and unified character and plot development. Also, Keating's love and experience with topics such as baseball, economics and history are richly displayed... As with all Keating novels, this newest venture is worth your interest, reading and gifting."  - Pastor Rod Zwonitzer, retired host of KFUO radio's "BookTalk"
"A great new series from Ray Keating... Intriguing story and full of suspense, with interesting characters. It's very different from the PSG [Pastor Stephen Grant] novels, but a lot of similarities in the writing style. I'm looking forward to reading the next one."  - 5-star Amazon.com review

"Keating's book is vigorously paced overall; there's no deficit of action or intrigue in these pages..."  - Kirkus Reviews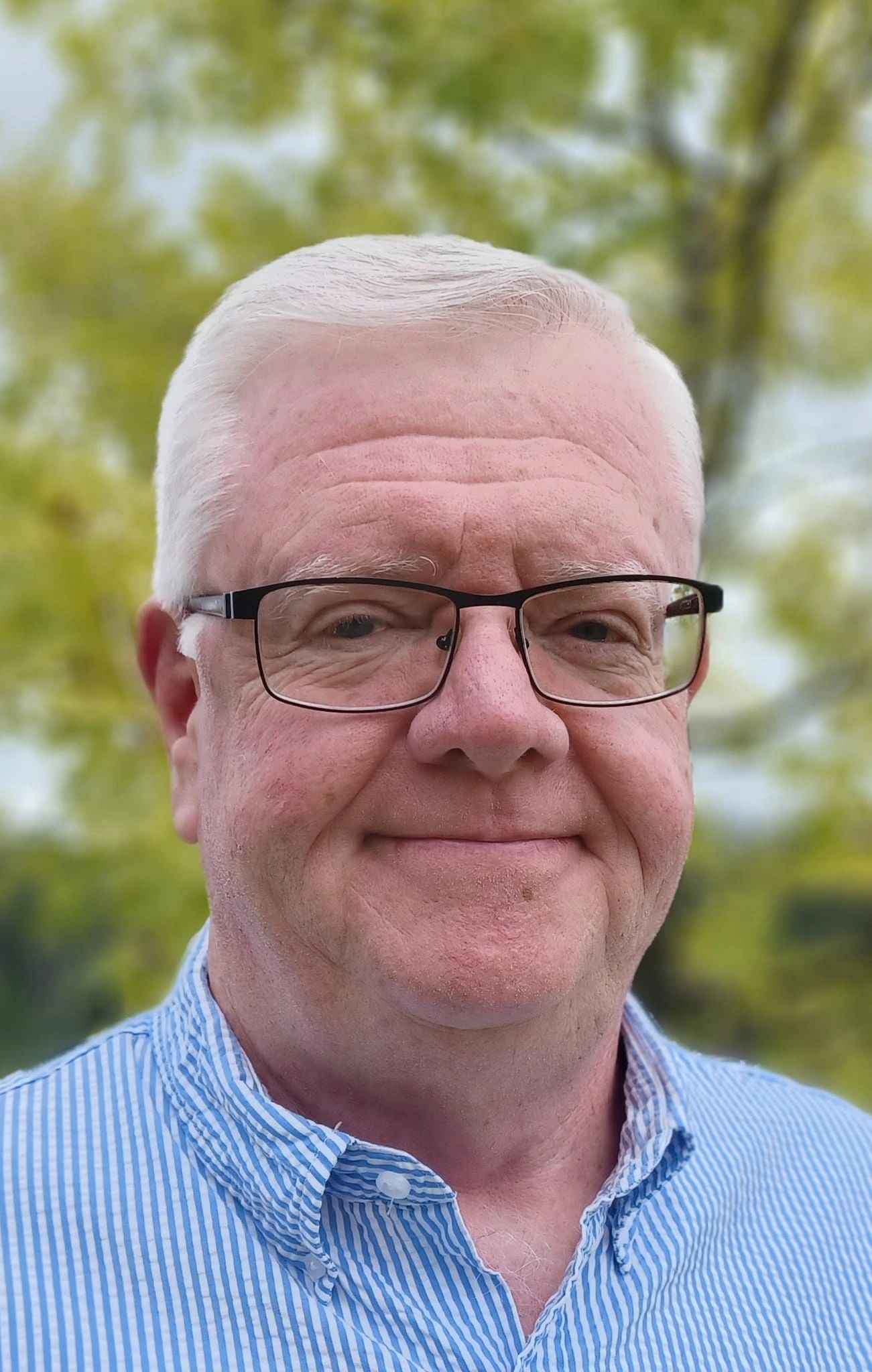 Ray Keating is a novelist, an economist, a nonfiction author, a podcaster, a columnist, and an entrepreneur. He is the author of the Pastor Stephen Grant novels, the Alliance of Saint Michael series, and assorted nonfiction books. For more information,
go here
.