Christmas Duo - Christmas Bells at St. Mary's and An Advent for Religious Liberty - Signed by Ray Keating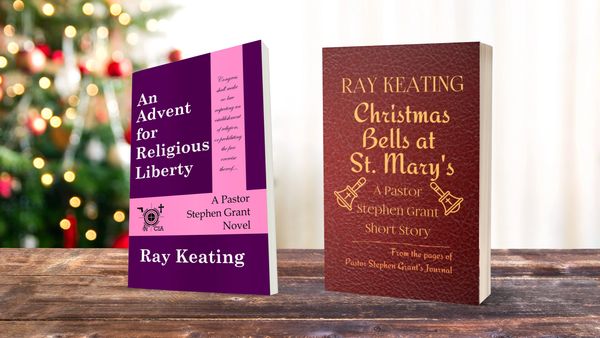 Description
Christmas Duo - Christmas Bells at St. Mary's: A Pastor Stephen Grant Short Story and An Advent for Religious Liberty: A Pastor Stephen Grant Novel - Both Signed by Ray Keating
This duo makes for ideal reading during the Advent and Christmas seasons!
• Christmas Bells at St. Mary's: A Pastor Stephen Grant Short Story 
If you appreciate the spirit captured by many classic Christmas films, then you're just like Pastor Stephen Grant … and you'll enjoy this latest adventure. From the pages of his own journal, Pastor Grant paints a picture of Christmas at St. Mary's Lutheran Church, emphasizing gratitude for family; for a new clergy friend; for a special handbell concert; and yes, for movies of the season. But danger also lurks, and sin, justice, forgiveness, suffering, sacrifice and salvation mix together in a rare way.
• An Advent for Religious Liberty: A Pastor Stephen Grant Novel 
Advent and Christmas approach. It's supposed to be a special season for Christians. But it's different this time in New York City. Religious liberty is under assault. The Catholic Church has been called a "hate group." And it's the newly elected mayor of New York City who has set off this religious and political firestorm. Some people react with prayer – others with violence and murder. Stephen Grant, former CIA operative turned pastor, faces deadly challenges during what becomes known as "An Advent for Religious Liberty." Grant works with the cardinal who leads the Archdiocese of New York, the FBI, current friends, and former CIA colleagues to fight for religious liberty, and against dangers both spiritual and physical.
(Free shipping within the continental United States.)
Ray Keating is a novelist, an economist, a nonfiction author, a podcaster, a columnist, and an entrepreneur. He is the author of the Pastor Stephen Grant novels, the Alliance of Saint Michael series, and assorted nonfiction books. For more information, go
here
.