"Persecution" is Coming! Are You Caught Up?
Root of All Evil? A Pastor Stephen Grant Novel - New Second Edition - Signed Copy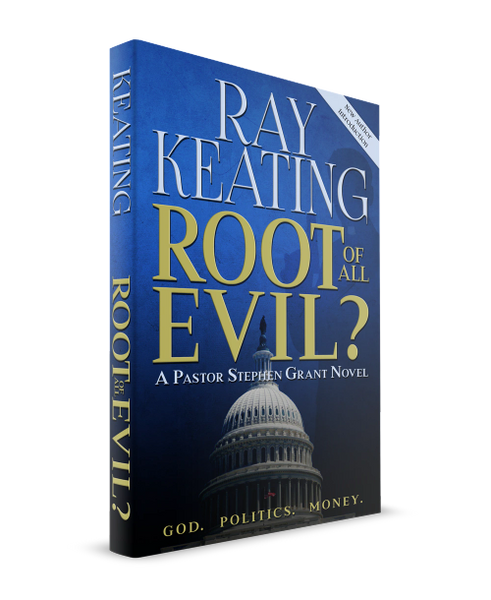 Description
ROOT OF ALL EVIL? (Second Edition) signed by the Author!
Do God, politics and money mix? In ROOT OF ALL EVIL? A PASTOR STEPHEN GRANT NOVEL by Ray Keating, the combination can turn out quite deadly. Keating introduced readers to Stephen Grant, a former CIA operative and current parish pastor, in the fun and highly praised WARRIOR MONK. Grant returns in ROOT OF ALL EVIL? – a breathtaking thriller involving drug traffickers, politicians, the CIA and FBI, a shadowy foreign regime, the Church, and money. Charity, envy and greed are on display, with the action running high. 
In this second edition of ROOT OF ALL EVIL? A PASTOR STEPHEN GRANT NOVEL, Ray Keating has written an author introduction focused on some of the challenges of penning a political thriller, including maintaining an edge-of-your-seat feel while not annoying the reader with the petty real world of politics. Keating also talks about how some key characters fit into ROOT OF ALL EVIL?, as well as how his own experiences fed into the story.

"Ray Keating's perennial hero, Pastor Steven Grant, returns with his unique blend of high-octane action and spiritual gravitas in ROOT OF ALL EVIL? As always, Keating's whip-smart political pen is sharpened with gritty language, dark twists, and a bold plot line that feels both powerful and timely. Beloved side characters ... return to support the warrior monk in his pursuit of righteous justice, and Pastor Grant continues to expand as a complex protagonist, once again carrying a tangled and thrilling book on his capable shoulders."  - Self-Publishing Review, ★★★★½
 
"ROOT OF ALL EVIL? is an extraordinarily good read.  Only Ray Keating could come up with a character like Pastor Stephen Grant... As trouble mounts in this page-turner, Grant will need both skills  - martial and theological - to punish evil and save the good.  Even though the Bible says that it's the love of money which is the root of all evil, Grant will find that even a casual appreciation of the U.S. dollar is enough to corrupt church men, government officials, and foreign agents."  - Paul L. Maier, author of A Skeleton in God's Closet, More Than A Skeleton, and The Constantine Codex (review of first edition)
 
"Well written, fast paced, it held my attention well while merging drama, adventure, theology, and economics."  - Mary Moerbe, author of Blessed: God's Gift of Love and Family Vocation (review of first edition)
 
"Ray Keating's second Pastor Stephen Grant novel, ROOT OF ALL EVIL?, is a fantastic follow up to Warrior Monk. It's a well crafted political thriller full of intrigue and theological truth. Keating's world has proven profitable for contrasting good theology with bad."  - Tyrel Bramwell, author of The Gift and the Defender (review of first edition)
 
"... storylines converge in D.C. with Stephen Grant's CIA past. He is called back into service as an expert shot and has ample opportunity to provide pastoral care."  - Lutheran Book Review (review of first edition)
 
"I loved every second of it... This is well done. The character development ... is very nice. The story flows. It's multi-themed... I'm a fan. I'm hooked."  - Rod Zwonitzer, host of KFUO's "BookTalk" (review of first edition)
 
"My daughter Mary Moerbe has compiled a list of contemporary Lutheran novelists, many of whom are working in the formula genres and are self-publishing, but some of those are well-done and fun to read (such as Ray Keating's Pastor Stephen Grant series, about a James-Bond type CIA agent who becomes a Lutheran pastor, but still sometimes has to revert to his former life. Talk about being between two kingdoms!)."  - Gene Edward Veith, a Patheos.com columnist, retired literature professor, Provost Emeritus at Patrick Henry College, director of the Cranach Institute at Concordia Theological Seminary, and his latest book is Post-Christian: A Guide to Contemporary Thought and Culture
(PLEASE NOTE: Free shipping only applies in the continental U.S.)