Root of All Evil? A Pastor Stephen Grant Novel - New Second Edition - Signed Copy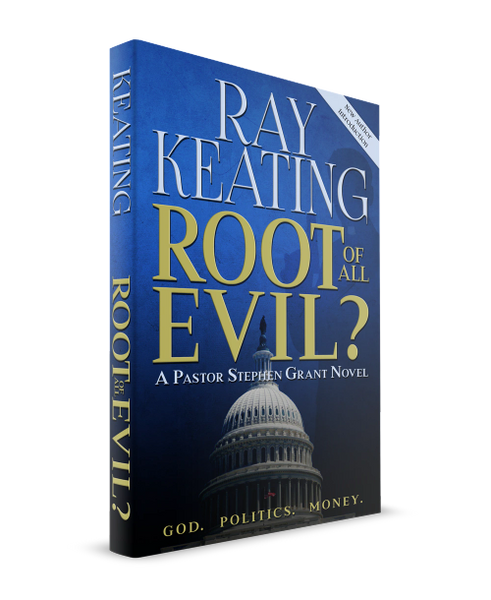 Description
ROOT OF ALL EVIL? (Second Edition) signed by the Author!
Do God, politics and money mix? In ROOT OF ALL EVIL? A PASTOR STEPHEN GRANT NOVEL by Ray Keating, the combination can turn out quite deadly. Keating introduced readers to Stephen Grant, a former CIA operative and current parish pastor, in the fun and highly praised WARRIOR MONK. Grant returns in ROOT OF ALL EVIL? – a breathtaking thriller involving drug traffickers, politicians, the CIA and FBI, a shadowy foreign regime, the Church, and money. Charity, envy and greed are on display, with the action running high.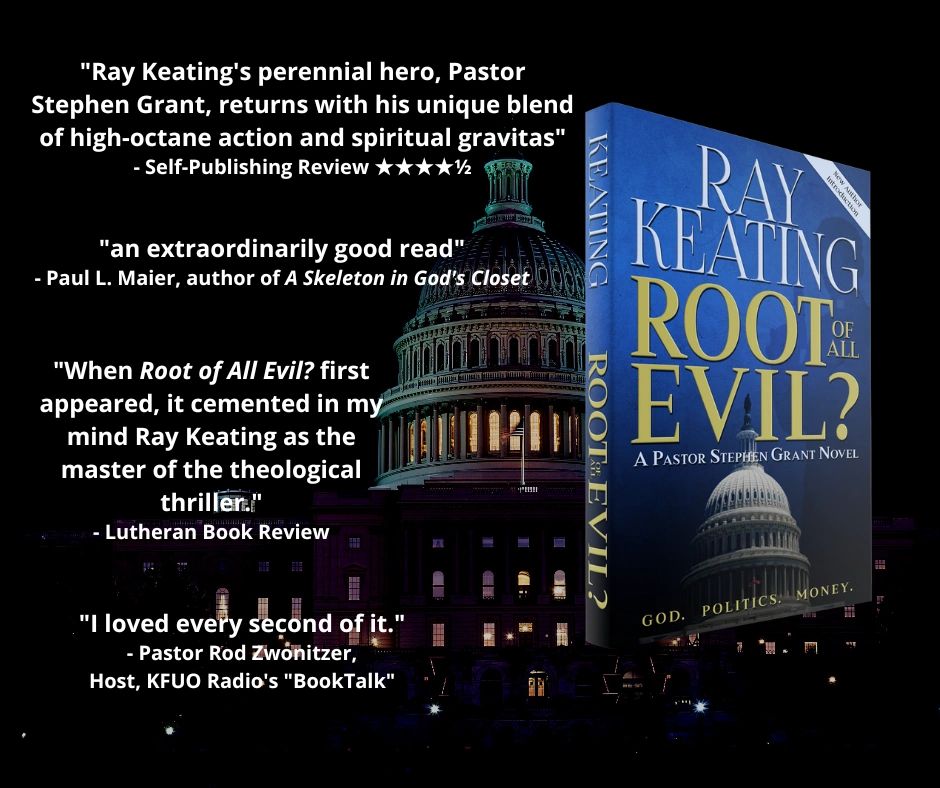 In this second edition of ROOT OF ALL EVIL? A PASTOR STEPHEN GRANT NOVEL, Ray Keating has written an author introduction focused on some of the challenges of penning a political thriller, including maintaining an edge-of-your-seat feel while not annoying the reader with the petty real world of politics. Keating also talks about how some key characters fit into ROOT OF ALL EVIL?, as well as how his own experiences fed into the story.
Reviews of Root of All Evil?...
"Ray Keating's perennial hero, Pastor Steven Grant, returns with his unique blend of high-octane action and spiritual gravitas in ROOT OF ALL EVIL? As always, Keating's whip-smart political pen is sharpened with gritty language, dark twists, and a bold plot line that feels both powerful and timely. Beloved side characters ... return to support the warrior monk in his pursuit of righteous justice, and Pastor Grant continues to expand as a complex protagonist, once again carrying a tangled and thrilling book on his capable shoulders."  - Self-Publishing Review, ★★★★½
 
"ROOT OF ALL EVIL? is an extraordinarily good read.  Only Ray Keating could come up with a character like Pastor Stephen Grant... As trouble mounts in this page-turner, Grant will need both skills  - martial and theological - to punish evil and save the good.  Even though the Bible says that it's the love of money which is the root of all evil, Grant will find that even a casual appreciation of the U.S. dollar is enough to corrupt church men, government officials, and foreign agents."  - Paul L. Maier, author of A Skeleton in God's Closet, More Than A Skeleton, and The Constantine Codex (review of first edition)
 
"Well written, fast paced, it held my attention well while merging drama, adventure, theology, and economics."  - Mary Moerbe, author of Blessed: God's Gift of Love and Family Vocation (review of first edition)
 
"Ray Keating's second Pastor Stephen Grant novel, ROOT OF ALL EVIL?, is a fantastic follow up to Warrior Monk. It's a well crafted political thriller full of intrigue and theological truth. Keating's world has proven profitable for contrasting good theology with bad."  - Tyrel Bramwell, author of The Gift and the Defender (review of first edition)
 
"... storylines converge in D.C. with Stephen Grant's CIA past. He is called back into service as an expert shot and has ample opportunity to provide pastoral care."  - Lutheran Book Review (review of first edition)
 
"I loved every second of it... This is well done. The character development ... is very nice. The story flows. It's multi-themed... I'm a fan. I'm hooked."  - Rod Zwonitzer, host of KFUO's "BookTalk" (review of first edition)
"When Root of All Evil? first appeared, it cemented in my mind Ray Keating as the master of the theological thriller. Keating skillfully weaves together theology, politics, and economics in an exciting narrative... Stephen Grant has an extensive background of expertise, yet it never comes off as forced, inauthentic, or retroactive continuity. Pastor Stephen Grant makes the most of the opportunities presented to him and lives and acts within his vocations in Christ." - Lutheran Book Review (review of second edition)
"Mr. Keating knows how to tell an exciting story. And these books, like the James Bond novels, are ridiculously entertaining. As for larger themes, there is vocation, of course. I see these books as honoring the pastoral ministry. Because in real life, pastors are heroes engaged in saving the world."  - Gene Veith on the Pastor Stephen Grant series on his "Cranach: The Blog of Veith"    
"Many noteworthy critics have given rave reviews to books of the series and have applauded the efforts of author Ray Keating in coming up with such an exciting series and unique character. Ray Keating has also received praise from his fellow writers for his mind-blowing work in the series. The first book of the series has succeeded in making it to the top 10 self-published books of the year by the World magazine. Other novels also followed and achieved great success. The worldwide success of this series helped Ray Keating in establishing himself in the ranks of the noteworthy authors of the spy thriller/espionage genre."  - BookSeriesinOrder.com
Ray Keating is a novelist, an economist, a nonfiction author, a podcaster, a columnist, and an entrepreneur. He is the author of the Pastor Stephen Grant novels, the Alliance of Saint Michael series, and assorted nonfiction books. For more information, go here.

(PLEASE NOTE: Free shipping only applies in the continental U.S.)