The River: A Pastor Stephen Grant Novel - Signed Copy
Description
THE RIVER: A PASTOR STEPHEN GRANT NOVEL. Finalist for KFUO's BookTalk "Book of the Year." 
Keating offers another story of excitement and suspense in THE RIVER: A PASTOR STEPHEN GRANT NOVEL. Some refer to Las Vegas as Sin City. But the sins being committed in THE RIVER are not what one might typically expect. Rather, it's about murder. Stephen Grant once used lethal skills for the Navy SEALs and the CIA. Now, years later, he's a pastor. How does this man of action and faith react when his wife is kidnapped, a deep mystery must be untangled, and both allies and suspects from his CIA days arrive on the scene? How far can Grant go – or will he go – to save the woman he loves? Will he seek justice or revenge, and can he tell the difference any longer? 

Once again, in THE RIVER, Keating wields his formidable story-telling skills by serving up a fast-paced adventure, rich characters, faith, humor, big ideas, and murder. Amazon.com reviewers have compared Keating's thrillers to the works of Clancy, Ludlum, Grisham, Cussler, and Morrell.

Kirkus Reviews declares, "A gritty, action-stuffed, well-considered thriller with a gun-toting clergyman."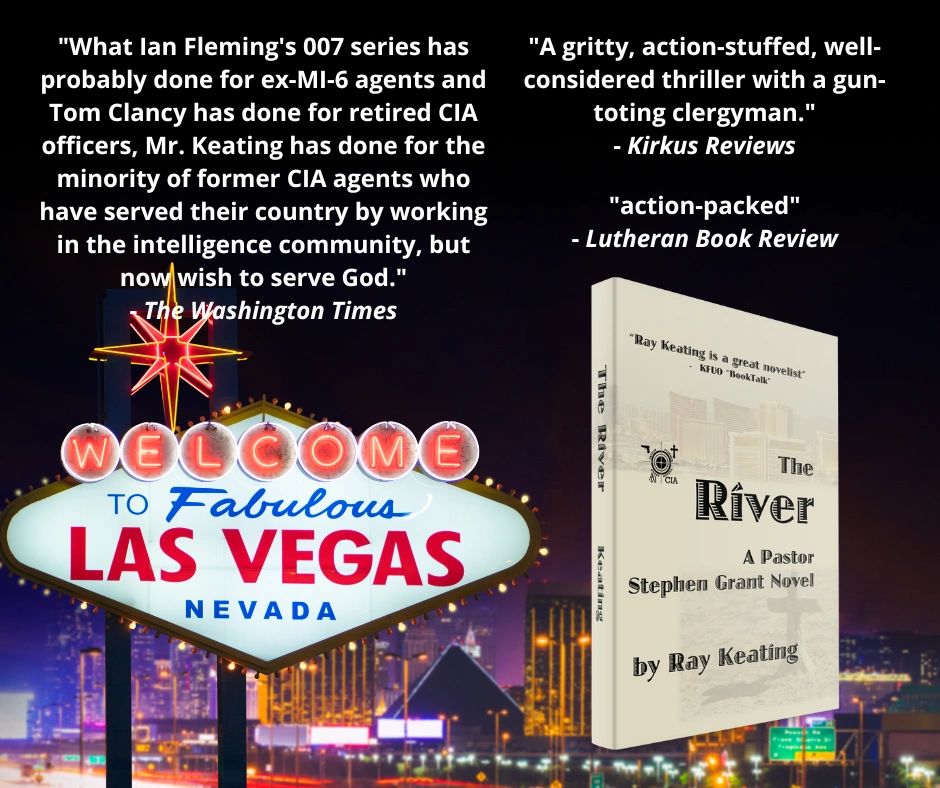 Reviews of The River...
"Mr. Keating's storytelling is so lifelike that I almost thought I had worked with him when I was at Langley. Like the fictitious pastor, I actually spent 20 years working for the U.S. intelligence community, and once I started reading 'The River,'... I simply could not put it down. What Ian Fleming's 007 series has probably done for ex-MI-6 agents and Tom Clancy has done for retired CIA officers, Mr. Keating has done for the minority of former CIA agents who have served their country by working in the intelligence community, but now wish to serve God."  - The Washington Times
"The protagonist is the quintessential antihero: he's a good man respected by his peers ... but is infuriated by the evil of others. Grant may or may not kill before the story's finished, but he's unquestionably wrought with guilt over his murderous impulses. Action scenes flood the novel, particularly once Grant gets help from old CIA cohort Paige Caldwell, who comes complete with skills, weapons, and other men... A gritty, action-stuffed, well-considered thriller with a gun-toting clergyman."    - Kirkus Reviews  
"Mr. Keating knows how to tell an exciting story. And these books, like the James Bond novels, are ridiculously entertaining. As for larger themes, there is vocation, of course. I see these books as honoring the pastoral ministry. Because in real life, pastors are heroes engaged in saving the world."  - Gene Veith on the Pastor Stephen Grant series on his "Cranach: The Blog of Veith"
"Many noteworthy critics have given rave reviews to books of the series and have applauded the efforts of author Ray Keating in coming up with such an exciting series and unique character. Ray Keating has also received praise from his fellow writers for his mind-blowing work in the series. The first book of the series has succeeded in making it to the top 10 self-published books of the year by the World magazine. Other novels also followed and achieved great success. The worldwide success of this series helped Ray Keating in establishing himself in the ranks of the noteworthy authors of the spy thriller/espionage genre."  - BookSeriesinOrder.com
"Your favorite (fictional) Lutheran pastor, Rev. Stephen Grant, and Mrs. Grant find that Sin City lives up to its name. Pastor Grant struggles against the sins of others and his own as life and love hit with intensity. If it wasn't the Hollywood-esque action that kept me turning the page, it was the intrigue surrounding how God's Law and Gospel worked on the pastor and those in his life. Five Stars, friends!"  - Tyrel Bramwell, author of The Gift and the Defender
"The River is another fine novel, exploring both the human side of a Lutheran pastor (or CIA agent!) and the adventures of a formidable figure... Some might find this book a little darker than previous books, but I see this as opening up a lot of possibilities for later revelations and hopefully reconciliations in the series."  - Mary Moerbe, author of Blessed: God's Gift of Love and Family Vocation
"Good reading."  - Rod Zwonitzer, host of KFUO's "BookTalk"
"I pray my world will not be as dangerous and action-packed as Pr. Grant's adventures in Las Vegas. Enjoy the Christian-worldview-fiction of Ray Keating. Recommended!" - Lutheran Book Review
Ray Keating is a novelist, an economist, a nonfiction author, a podcaster, a columnist, and an entrepreneur. He is the author of the Pastor Stephen Grant novels, the Alliance of Saint Michael series, and assorted nonfiction books. For more information, go here.
(PLEASE NOTE: Free shipping only applies in the continental U.S.)