Book of the Month: ROOT OF ALL EVIL?
Sale on WARRIOR MONK DUO - Signed Set - Warrior Monk: A Pastor Stephen Grant Novel (New Second Edition) and A Discussion Guide for Ray Keating's Warrior Monk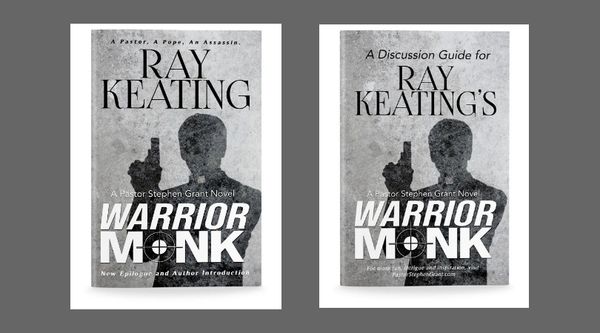 Description
WARRIOR MONK: A PASTOR STEPHEN GRANT NOVEL (Second Edition) and A DISCUSSION GUIDE FOR RAY KEATING'S WARRIOR MONK - This combination is perfect for book discussion groups, and the current sale means that you're only paying $1 for the DISCUSSION GUIDE, which usually goes for $5.99.
Stephen Grant, pastor at St. Mary's Lutheran Church on Long Island, former Navy SEAL and onetime CIA operative, came on the thriller/mystery scene in WARRIOR MONK. This book by award-winning novelist Ray Keating has received accolades from reviewers and readers, and now the second edition has arrived with a new Author Introduction and Epilogue.
In WARRIOR MONK, Grant has been living a far different, relatively quiet life as a pastor. However, a shooting at his church, a historic papal proposal, and threats to the pope's life mean that Grant's former and current lives collide. Grant must tap the varied skills learned as a government agent, a theologian and a pastor not only to protect the pope, but also to find his way through a minefield of personal challenges.
In the new Introduction, Keating answers an assortment of questions about the book and writing, while the new Epilogue provides a glimpse at an upcoming Pastor Stephen Grant novel.
The second edition of WARRIOR MONK comes after the tenth Pastor Stephen Grant adventure, SHIFTING SANDS, was published in November 2018. 
About Keating's Pastor Stephen Grant thrillers and mysteries, one reviewer declared, "Skillful in plot and description, Keating paints three-dimensional and interestingly different locations and crimes in each book. He has a writerly gift for making the action crisp. Keating researches his settings, too."
In addition, a new edition of A DISCUSSION GUIDE FOR RAY KEATING'S WARRIOR MONK has been published. There's more to WARRIOR MONK than just being an exciting thriller. A host of moral, ethical and religious topics are touched on as well. This guide is meant for group or individual study and reflection on topics like terrorism, war, prayer, public life and the Church, sex and marriage, going to church, ecumenism, and church architecture.
(PLEASE NOTE: Free shipping only within the continental United States.)