Go to Kickstarter.com for "7 Exclusive Novels"
WARRIOR MONK DUO - Signed Set - Warrior Monk: A Pastor Stephen Grant Novel (New Second Edition) and A Discussion Guide for Ray Keating's Warrior Monk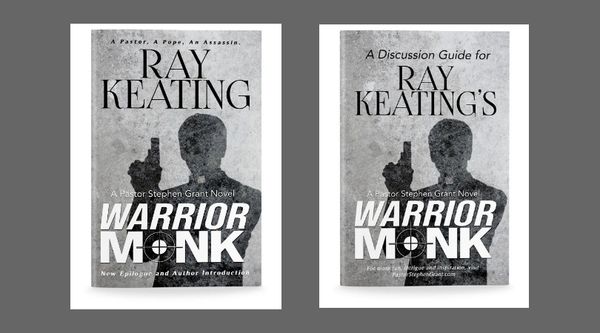 Description
WARRIOR MONK: A PASTOR STEPHEN GRANT NOVEL and A DISCUSSION GUIDE FOR RAY KEATING'S WARRIOR MONK – Signed by Ray Keating
This combination is perfect for book discussion groups.
Stephen Grant, pastor at St. Mary's Lutheran Church on Long Island, former Navy SEAL and onetime CIA operative, came on the thriller/mystery scene in WARRIOR MONK. This book by award-winning novelist Ray Keating has received accolades from reviewers and readers, and now the second edition has arrived with a new Author Introduction and Epilogue.
In WARRIOR MONK, Grant has been living a far different, relatively quiet life as a pastor. However, a shooting at his church, a historic papal proposal, and threats to the pope's life mean that Grant's former and current lives collide. Grant must tap the varied skills learned as a government agent, a theologian and a pastor not only to protect the pope, but also to find his way through a minefield of personal challenges.
In the new Introduction, Keating answers an assortment of questions about the book and writing, while the new Epilogue provides a glimpse at an upcoming Pastor Stephen Grant novel.
On WARRIOR MONK...
"Grant is a selfless and fascinating protagonist. Keating pulls back the walls of the pastor's psyche and lets readers root around, providing a sense of intimacy and closeness with the central character from very early on in the novel. Warrior Monk is full of intentional, thoughtful writing that hits hard and carries the story to the end. After devouring this opening salvo, new fans will dive in eagerly to the future adventures of Pastor Stephen Grant."  - Self-Publishing Review, ★★★★½
"Here is a fun adventure romp, a first novel by former Newsday columnist Ray Keating.  Stephen Grant is an ex-CIA agent with notches on his pistol who, with a little bit of angst, turns his back on his secret life and becomes, get this, a pastor of the Lutheran Church-Missouri Synod. We first meet Grant as he dispatches an opposing agent within the nave of a French Catholic church (because for discreet meetings between rival spies, the empty churches of Europe are ideal). Grant next shows up as pastor of St. Mary's Lutheran Church on the east end of Long Island, where he slays an eco-terrorist who is trying to shoot choir members at rehearsal (not, from the description in the novel, that choir's rendering of A Mighty Fortress didn't give the effort some merit)."  - FirstThings.com (review of first edition)
"The first of Ray Keating's Pastor Stephen Grant novels, Warrior Monk, catches your attention from page one. It reads like one of Vince Flynn's Mitch Rapp adventures, dishing out details and action at a fast pace.  And in the midst of that action Keating manages to brilliantly present the reader with thought provoking truths, seemingly little things that aren't pondered nearly enough, such as a note about church architecture or a relational reality particular to men who hold the pastoral office. At other times he deals with larger topics such as church doctrine and practice... It's a spectacular ride steeped in theological intrigue! As a fan of G.K. Chesterton I delighted in the similarities between Keating's Pastor Stephen Grant and Chesterton's Father Brown. In the 20th century, Chesterton, a journalist (among other things), gave the world a detective priest. In the 21st, another journalist (among other things), Keating, gave the world a spy-turned-pastor."  - Tyrel Bramwell, author of The Gift and the Defender (review of first edition)
"It's got it all: action, intrigue, character development, etc."  -Mary Moerbe, author of Blessed: God's Gift of Love and Family Vocation (review of first edition)
"It grabs a hold of you so much that you want to keep reading. You want to figure out what happens."  - Rod Zwonitzer, host of KFUO "BookTalk" (review of first edition)
"Warrior Monk by Ray Keating has all of the adventure, intrigue, and believable improbability of mainstream political thrillers, but with a lead character, Pastor Stephen Grant, that resists temptation."  - Lutheran Book Review (review of first edition)
Ray Keating is a novelist, an economist, a nonfiction author, a podcaster, a columnist, and an entrepreneur. He is the author of the Pastor Stephen Grant novels, the Alliance of Saint Michael series, and assorted nonfiction books. For more information, go here.
(PLEASE NOTE: Free shipping only within the continental United States.)