Wine Into Water: A Pastor Stephen Grant Novel - Signed Copy
Description
WINE INTO WATER: A PASTOR STEPHEN GRANT NOVEL
The host of KFUO radio's "BookTalk" says, "Ray Keating is a great novelist." 
Blood, wine, sin, justice and forgiveness… Who knew the wine business could be so sordid and violent? That's what happens when it's infiltrated by counterfeiters. A pastor, once a Navy SEAL and CIA operative, is pulled into action to help unravel a mystery involving fake wine, murder and revenge. Stephen Grant is called to take on evil, while staying rooted in his life as a pastor.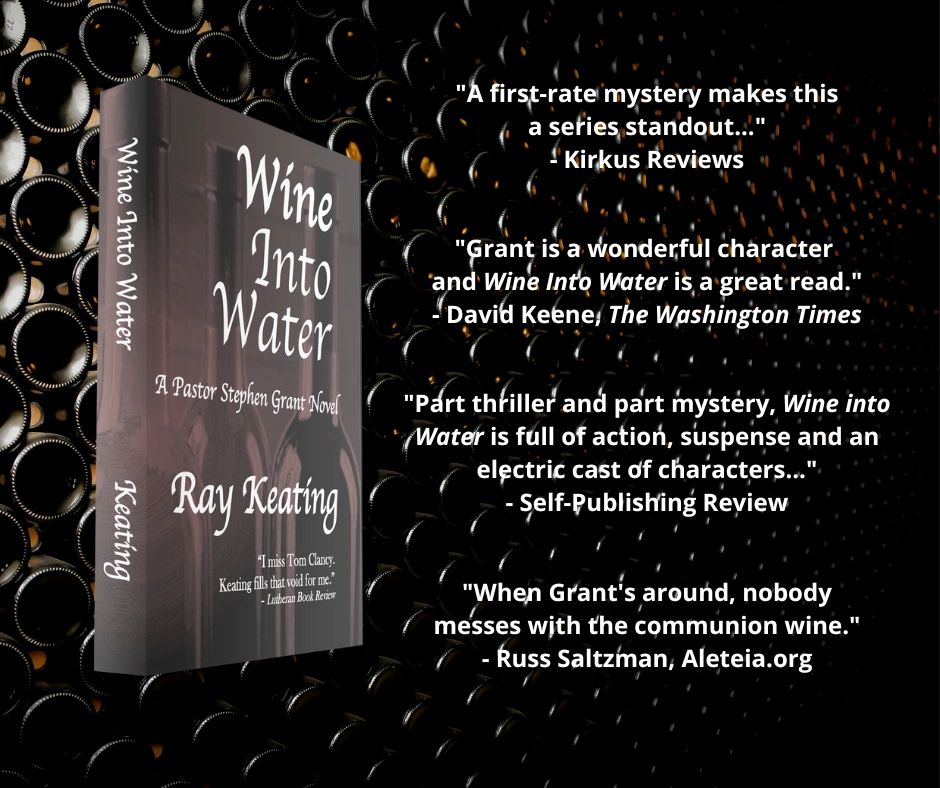 Among the praise for WINE INTO WATER...
"The recurring protagonist shares the spotlight with many characters who appeared in preceding novels. This narrative approach, however, proves beneficial. To begin with, the story, though boasting the series' now-prerequisite action sequences, shifts most of its attention to the mystery. Keating establishes genuine suspects: seems all winemakers, from the respected to the dubious, are under attack, so those culpable aren't easily detectable. Grant undoubtedly shines in confrontations with baddies as well as lighter subplots: scenes behind the pulpit and his visible awkwardness whenever Caldwell and his wife, Jennifer, are together. But it's the search for killers that makes the biggest impact, and the pastor can't take full credit; it's a team effort, with characters (i.e., Grant's old CIA pals) that are just as essential. A first-rate mystery makes this a series standout, even if the titular protagonist splits his hero status with others."  - Kirkus Reviews
"In this, Ray Keating's sixth novel featuring Pastor Stephen Grant, we discover that the always intriguing former Navy Seal and CIA operative is also a world class wine aficionado. This comes in handy as the pastor is once again forced to divide his time between his understanding wife, the needs of his church and congregation, and what some describe as his 'hobby' of joining the fray to assist colleagues from his past life when called upon. Grant is a wonderful character and Wine Into Water is a great read."  - David Keene, Opinion Editor, The Washington Times
"The first time we meet the intrepid Lutheran Pastor Stephan Grant, a former CIA agent with notches on his gun, he has saved Pope Augustine from a knife-wielding monk. The pastor of St. Mary's Lutheran Church on Long Island (yes, there are Lutheran congregations named for St. Mary), Grant seems to be one of those pastors who ends up everywhere at once, and St. Mary's seems to be one of those parishes that takes pastoral absences calmly. In this adventure, sixth in the series, wine counterfeiters (no, I haven't heard of that either) infest the vineyards. When Grant's around, nobody messes with the communion wine."  - Russ Saltzman, Aleteia.org
"Part thriller and part mystery, Wine into Water is full of action, suspense and an electric cast of characters - both villainous and heroic - that will satisfy fans of crime thrillers. The strongest element of the novel is how high Keating pushes the stakes - another murder could happen at any moment. The book is action-packed, multi-layered, and believable, incorporating Grant's theological take on events, which raises the stakes even higher."  - Self-Publishing Review
"Relationships abound in Keating's writing, from former CIA/FBI times to Christian relationships to bonds among the criminal elite. These all intertwine with new characters and relationships emerging in this novel. A critical one here is Grant's training under wine/poker expert Larry Banner who is sold very expensive counterfeit wine. Grant's finely acquired wine tasting skills come into play here as he takes notice of distinct hint of vanilla in a Merlot. Intrigued? You should be as this novel again grabs hold of the reader and accelerates to a unexpected ending. Buy it! Read it! Enjoy it! Gift it!" - Rod Zwonitzer, retired host of KFUO's "BookTalk" 
"This is yet another fun thriller from Ray Keating. I loved learning more about the wine industry, and Mr. Keating did a great job weaving church history and communion-use throughout... As tends to happen, I wait a while and then binge read. After the momentum gained in Wine into Water, I'm already more than halfway through the next in the series, Lionhearts. which I'm also enjoying very much (although I teared up, too)! Keep up the good work, Mr. Keating, and I'll continue to read them!"  - Mary J. Moerbe, author of Blessed: God's Gift of Love and Family Vocation
"Wine Into Water advances the narrative of previous volumes, creating a new status quo by the end of the book, through character development, flashbacks, and ongoing pastoral care. This title is approachable for a first time Keating/Grant reader, yet more fulfilling for those of us who have been part of the whole journey. This title would generate enough interest in the new reader to go back and absorb the first five novels in the series... What I most appreciate about this series is how grounded the main characters are in a day-to-day practice of the Lutheran confession of the Christian faith. Here pastors and lay Christian readers will experience a confessional liturgical Lutheranism complete with Word and Sacrament ministry, Christians living out their daily vocations in ordinary and extraordinary ways, a pattern of Biblical catechesis, and hope and confidence in Christ Jesus and his Gospel."    - Lutheran Book Review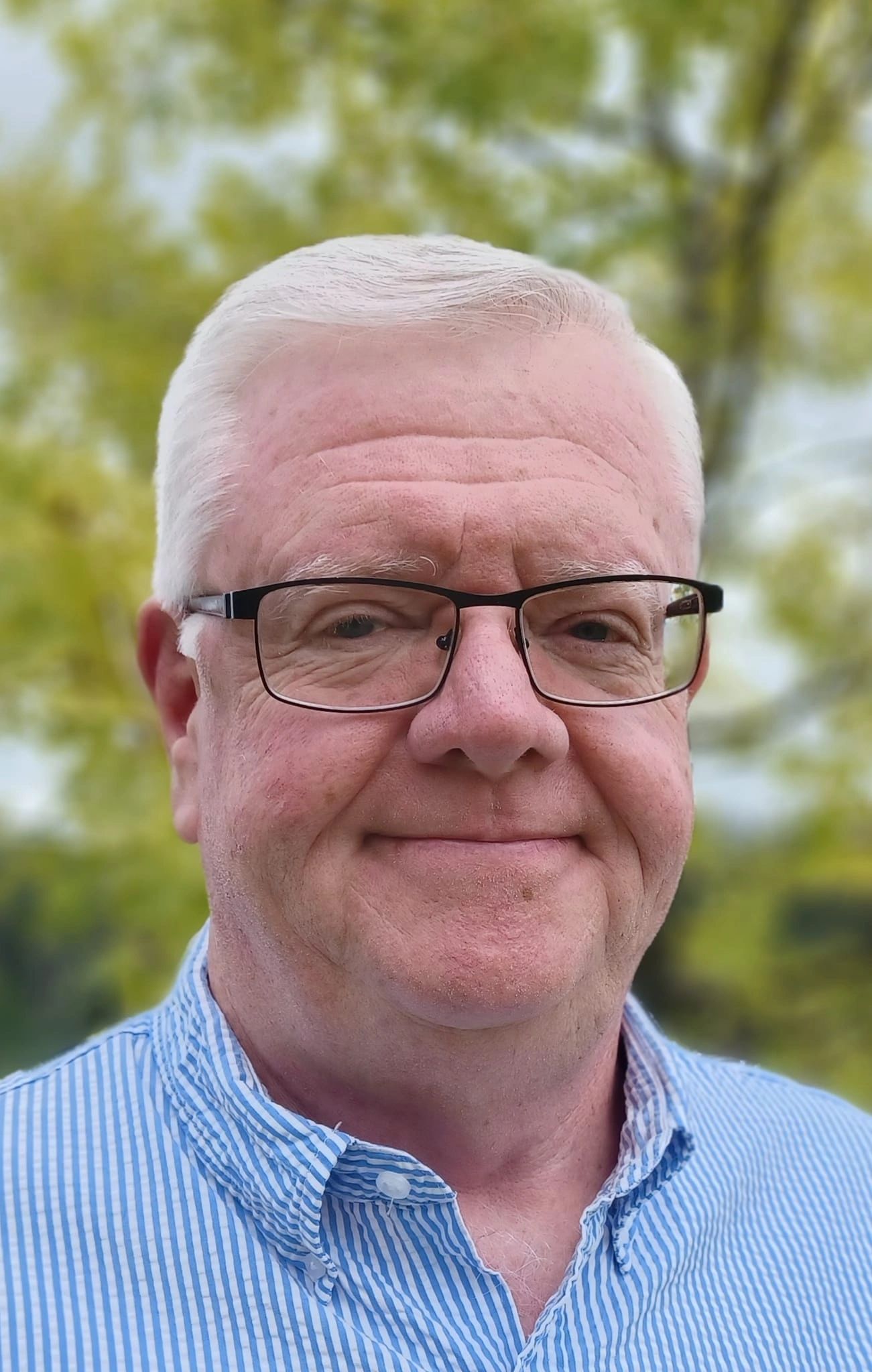 Ray Keating is a novelist, an economist, a nonfiction author, a podcaster, a columnist, and an entrepreneur. He is the author of the Pastor Stephen Grant novels, the Alliance of Saint Michael series, and assorted nonfiction books. For more information, go here.
(PLEASE NOTE: Free shipping only applies in the continental U.S.)